Na 23tího Bonda jsme si museli, stejně jako v případě třetího pokračování netopýřího hrdiny, počkat 4 dlouhé roky. V tomto případě se ale čekání vyplatilo a na rozdíl od Batmana se jedná o podívanou přímo velkolepou.
Hned  v úvodní sekvenci Vás do děje vtáhne svižná, skvěle natočená honička, která končí nechtěným výstřelem nikoli do padouchovy, nýbrž do hrudi agenta 007. I přes absenci jeho těla je prohlášen za mrtvého a na M zbývá už jen povinnost sepsat nekrolog. Zloděj, který MI6 utekl s přísně tajným, oficiálně neexistujícím seznamem všech tajných agentů a jejich skutečnými identitami, ale ještě neřekl poslední slovo a cenný disk předává výše postavenému. Ten začne po několika měsících na internet pravidelně vyvěšovat fotky a pravá jména vždy 5 agentů. Tento únik informací přiměje údajně mrtvého Bonda vylézt ze svého malého osobního ráje na ostrově a vrátit se zpět do aktivní služby.
Zpráva o tom, že tentokrát si režisérské otěže do rukou převezme Sam Mendes, mě velmi potěšila. Je to jeden z těch režisérů, kteří umí v jedné scéně natočit zdrceného, zlomeného muže, jež v následujících minutách nakročí do casina v padnoucím, lesknoucím se smokingu a jeho charisma mu rozrazí cestu až k baru, kde na něj čeká martiny (protřepat, nemíchat, samozřejmě) a pořád to vypadá realisticky a ne směšně.
Sam film uchytil jistou, zkušenou rukou a neservíroval jeden z nejlepších snímků roku. Akční scény jsou natočeny přehledně bez moderního (a stupidního) zvyku třesoucí se kamery. Skok do vlaku je již teďkultovní.  Rozhovory mezi Craigem a Javierem mají jiskru a i navzdory (nebo možná naopak díky) Barmedově slizké, psychopatické a homosexuální vizáži patří k tomu nejlepšímu z celého filmu.
Skvělý casting jen podtrhává "skoro-dokonalost" Skyfallu. Craig se s rolí Bonda už sžil a
dokáže stejně tak dobře zahrát zhrzeného agenta, jako sebevědomého muže, který se bez otázek připojí ke krásné ženě do sprchy. Ben Whishaw AKA mladý Q zapůsobí svou sympatičností a inteligencí. Judi Dench alias M je jako vždy skvělá. Jediná Bondgirl je dosti nevýrazná a mihne se tu na ploše pouze několika mála minut.
Vždycky jsem byl toho názoru, že záporáci to ve filmech mají lehčí. Hlavní hrdina si sympatii diváků musí těžko dolovat, ale padouch většinou charismatem jen září a ve své roli má větší prostor (vzpomeneme si na Ledgera, Oldmana, Spaceyho, Rickmana). Skyfall není výjmkou. Film patří Bardemovi. Každou jeho scénu jsem hltal a zároveň se těšil na další. Ulízaný, blonďatý, sadistický, zrazený, agresivní, inteligentní. Bond tentokrát prostě vyfasoval jednoho z nejtvrdších rivalů a rozhodně to s ním nemá lehké.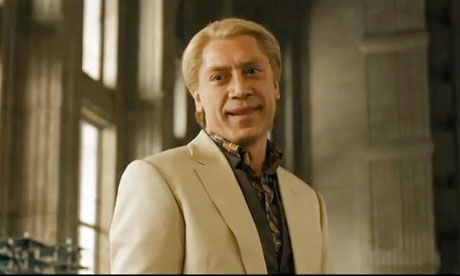 Ve filmu je také hodně cítit inspirace Nolanovým Batmanem. Bond už není neomylným střelcem, strniště nezastřihuje, není tak fyzicky zdatný jako předtím. Tentokrát je mužem, kterého zradili, který neměl tolik důvodů, proč se vracet nazpět, ale přesto se pro svou zem rozhodl znovu bojovat. Skyfall má ale lepší příběh, lepší provedení a mnohem, mnohem méně nelogičností.
23tí Bond je film, který rozdělí diváky na dvě skupiny. To se tušilo, ale teď je mi opravdu jasné, že ho buď budete milovat nebo nenávidět. Já jsem rozhodně v té první skupině.
Hodnocení : 90%
Líbí se ti tento článek? Přidej ho na