Jestli jste si při předminulém předávání prestižních Oscarů tak trochu lámali hlavu s tím, proč si Christian Bale jde pro své ocenění zarostlý jako bezdomovec, vězte, že to bylo právě z důvodu natáčení Flowers of War / v originále Jinling Shisan Chai.
13. prosince 1937 dobila japonská kavalérie Nanking a začala důkladně vyhlazovat všechny čínské civilisty. V tu dobu se v městě nachází i hrobař se závislostí na alkoholu John (Bale), který má za úkol pohřbít kněze místního chrámu. Shodou okolností se ale ocitá v nepřátelské palbě a je nucen ukrýt se spolu s mladými děvčaty a skupinou žen z nedalekého nevěstince do kláštera. Poté, co se Japonci zmocní i kostela se rozhodne obléct si šat mrtvého kněze a pokusit se všechny zachránit.
V první řadě byste asi měli vědět, že asijskou tvorbu prostě nemám rád, nebaví mě a hrozně se mi nelíbí jejich jazyk. Na Flowers of War jsem se, ale přesto těšil a již první trailer mi navodil to příjemné mrazení na zádech, které napovídalo, že by to tentokrát mohlo vyjít. Přítomnost mého oblíbence Balea pak byla již jen příjemným nadstandartem. No, neřekl bych, že jsem se úplně spletl, ale rozhodně z této, potenciálem nabité látky, šlo vytřískat více.
Největším trnem v patě je, že příběh postrádá klíčovou postavu, s kterou by divák soucítil, kterou by litoval. Jedinou sympatickou osobou je v celém filmu charakter tradičně skvělého Balea. Ostatní herci si k divákovi nevybudují tak pevný vztah a nedokáží ty emoce, o které tu jde především, tak silně dolovat. Prostitutky si tu vylívají srdce a všechen ten křik a pláč, ve spojení s tím krákáním, jemuž říkají slova a u kterého nepoznáte jestli brečí nebo mluví, po chvilce začne  lézt na nervy.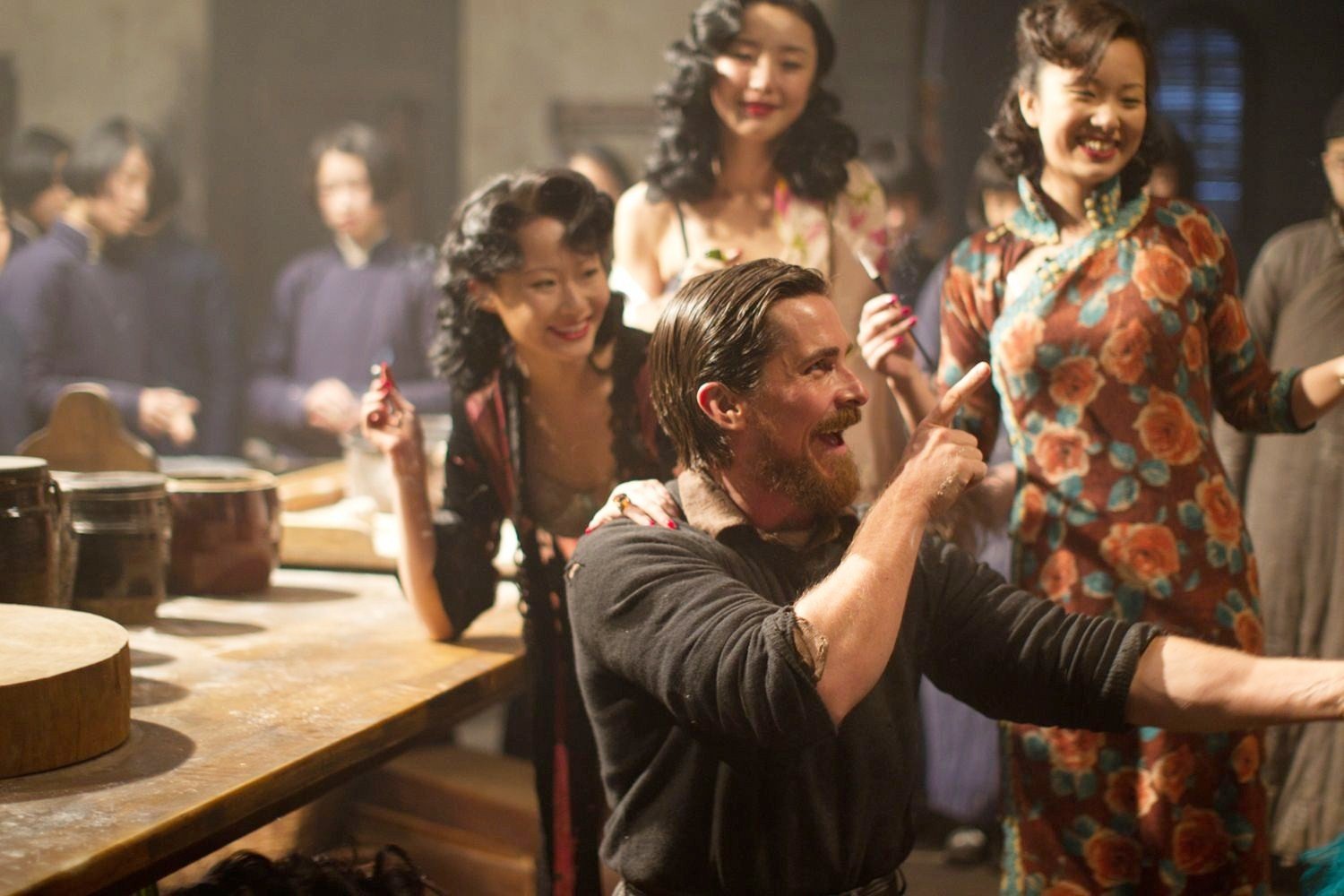 Nicméně scénář krásně vykrasluje Christianovu přeměnu z opilého vandráka na opravdového hrdinu, jež je ochoten pomoci nevinným dívkám i kdyby měl riskovat svůj vlastní život.
Dalším problémem je přespříliš dlouhá stopáž. Snímek si nedokáže udržet tak silnou míru atmosféry a napětí dvě a půl hodiny v kuse. Film sice nabízí dvě excelentní akční scény, ale i to je málo. Ona úvodní čtvrthodinová válečná epizoda je natočena s detailní přesností a bezchybnou  vizuální  stránkou. Jednou z nejlepších scén celého filmu je poté odvážný voják snažící se odrážet celou četu Japonců a to zcela sám, pouze za pomoci vychytralých triků a momentů překvapení.
Yimou Zhang má tyhle věci v malíku a režii netřeba nic vytýkat. Ani ty občasné zpomalovačky alá Max Payne nevyznívají tak kýčovitě jako jinde (známe to).
Flowers of War je prakticky nejdražším filmem, kdy natočeným v Číně a ty peníze jsou tu opravdu vidět. Všechno se hroutí, všude se střílí, tanky explodují, granáty vyhazují budovy do vzduchu. Akční sekvence jsou díky precizní režii a dokonalé spoluprací kameramana s herci a prostorem na jedničku s hvězdičkou (podtrženou).
Pochvalu si zaslouží i často opomínané masky. Zejména skvěle nalíčené prostitutky a vojáci.
Navzdory tomu všemu, ale Jinling Shisan Chai zůstává pouze efektně natočenou ždímačkou emocí. Je to škoda, zrovna tohle téma by si zasloužilo lepší pojetí. Takhle Vám v hlavě zůstane tak maximálně vzpomínka na úžasného Balea a vynikající scénu s vojákem, jež se snaží uchránit kostel před bandou rozzuřených Japonců.
Hodnocení : 65 %
P.S.: Když se Japonka uprostřed války vydá přes celé město pro bezcenný šperk, nesmí se pak divit, když se najednou ocitne přivázaná k posteli ve společnosti několika vojáků.
Líbí se ti tento článek? Přidej ho na