Joss Wheadon si na svá bedra vzal nelehký úkol. Přeci jenom ukočírovat pět ikonických postav Marvelu a k tomu ještě celou centrálu S.H.I.E.L.D.u není brnkačka. Navíc i přes skutečnost, že na jeho kontě vlastně nenajdete špatné dílo (především bych vyzdvyhnul nádhernou kosmickou podívanou jménem Firefly) někteří fanoušci nebyli nastoprocent přesvědčeni o jeho schopnostech vedení této celé bandy. Jak dopadlo jeho válečné tažení s touhle skupinkou superhrdinů ?
Nejdříve si pojďme trošku zrekapitulovat o co vlastně ve filmu jde. Pokud jste v kině vydrželi až do konce, tak jste po závěrečných titulkách každého marvelovského snímku mohli vidět menší upoutávku na další díl a u vybraných hrdinů i návštěvu Nicka Furyho, ředitele S.H.I.E.L.D.u. Tyto krátké ochutnávky nás nechali delší dobu pokládat si otázku, zda se máme nebo nemáme těšit i na společný film všech těchto komiksových postav. Když  byla otázka zodpovězena, tak se fanouškům v očích mihl onen záblesk nadšení. Měsíce příprav a natáčení skončili a do našich kin přicházejí Avengers.
Příběh je jednoduchý: Loki, bratr "Boha blesku"  Thora, se setká s mimozemskou rasou zvanou Chitauri. Ti Lokimu výměnou za krádež mocné kostky Tesseract, kterou má pod zámkem S.H.I.E.L.D., nabídnou pomoc s jeho zlomyslnými úmysly o podrobení Země. Nick Fury tedy musí svolat skupinku výjimečných hrdinů, kteří jediní dokáží Zemi ochránit. Zdá se Vám to přímočaré? Nebojte, příběh má mnoho odchylek a nejde tedy zase 'jen' o záchranu naší Země.
Film je tak trochu rozdělen na dvě části. První se zaobírá především sestavením týmu, kde jde vlastně o několik hádek mezi chlapci, které v podstatě vedou zpevnění jejich týmu. Nedá se říct, že je slabá, ale oproti druhé polovině značně ztrácí. Druhá část je totiž čistá popkornová podívaná narvaná hláškami, akcí, rvačkami a bezkonkurenčními efekty. Wheadon věděl pro koho točí a co přesně chtějí fanoušci vidět (on sám je tak trochu geek takže to měl z první ruky).
Velkým plusem je, že 'na všechny se dostane'. I když jde o film, kde se sejde Hulk, který má za sebou již dva samostatné snímky a Hawkeye, jež je u nás prakticky neznámý a svůj film nemá (v přípravě), obou hrdinům se na plátně dostane stejné pozornosti (i když přiznávám, že malinko více prostoru tu má Iron Man, ale stejně, komu to vadí, když ho hraje sympaťák Robert Downey jr.). Vrcholem je potom záběr proplouvající kamery, jež nám beze střihu postupně nabídne pohled na všechny postavy.
Nade všemi hereckými esy tu ale vyčnívají tři jména. Právě Downey jr., Tom Hiddleston a Mark Ruffalo, který mě přesvědčil, že byl pro roli Hulka skvělou volbou a podle mého se stal jeho nejlepším představitelem. Robert ve své roli showmana a multimiliardáře Tonyho Starka, kterým on tak trochu je i v reálném životě, každou svou větou perlí, tak, že by se nad jeho hláškami pousmál i Miroslav Krobot. Ruffalo opatrně načrtává svůj charakter a když se zprvu jeví jako nezvladatelné monstrum, v závěru dokáže táhnout za jeden provaz. Tom si mě dokázal získat již v Thorovi a tady jeho herectví naráží do stropu. Lokiho podává šarmantním, ale i zlověstným způsobem. Dokonalý záporák, který se pomalu drápe na Gary Oldmana v Leonovi.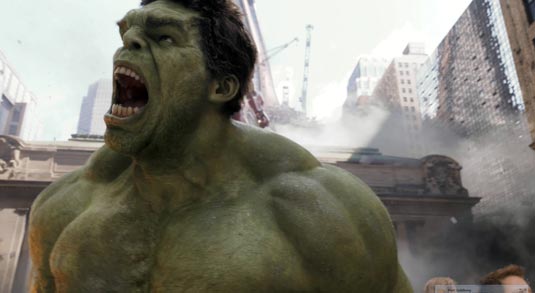 Wheadonova režie je pevná, jistá a navzdory tomu, že za svou kariéru natočil jen jeden film, dobře ví, co dělá. Bitky se snaží udržovat jasné a přehledné a (díky bohu) neholduje modernímu zvyku kmitavé kamery. Dokáže skvěle vytvořit atmosféru, s čímž mu pomáhá úžasná hudba Alana Silvestriho a garantuji Vám, že při excelentně natočené scéně, kde se mezi výbuchy sejdou všichni superhrdinové  najednou, se Vám rozbuší srdce a na zádech ucítíte takové to milé mrazení. Hudba rozpumpuje krev v žilách a kamerové triky fungují bez chyby. Obrovským pozitivem jsou ovšem efekty. Marvel se nebál, že by Avengers byli propadákem a narval do nich tolik prachů, kolik potřebovali. Vyplatilo se. Ať už emzáci nebo Hulk, vše je dovedeno k dokonalosti. Každý detail vypiplaný do milimetru (tady i já, musím uznat, že nemusí být od věci vidět film ve 3D). Avengers jsou prostě perfektně natočenou komiksovou adaptací, po jejíž konci jsem se již v duchu těšil na 'dvojku'.
P.S. : Že i po tolika letech naštvaného Hulka pořád dabuje Lou Ferrigno je docela poctou.
Hodnocení : 90%
Líbí se ti tento článek? Přidej ho na